Find the clarity you need when facing difficult situations.
Christian Counseling can provide clarity when working through tough seasons or making difficult decisions. Christian Counselors at Resolve Counseling provide a safe, non-judgmental place where you can be honest about your struggles and receive the support you need.
Resolve Counseling provides Online Christian Counseling because we understand that as Christians, our aim is different from others. We have been cautious to advertise Christian Counseling before due to many organizations who drive Christian Counseling in a way in which we do not agree.
Our Online Christian Counselors want to walk with you through whatever life event or stressor that has brought you to this page. We understand that Christians can be very judgmental and quickly provide standard advice or answers. Our Christian Counselors believe that you are the expert on your life, and that you have your own personal relationship with God. We believe the client leads, and the therapist follows to support and redirect when needed. Our role is to help you continue to strengthen your personal relationship with God while giving you support, resources, and Christian perspective as you make decisions about your life.
We believe that Online Christian Counseling should serve the client. We know that as people of faith, when we are encountering struggles we want support and guidance that aligns with our beliefs. We want to honor God with the decisions we make. This means that we cannot just talk to anyone, but we want to talk to someone that understands the importance of our foundation.
To work with our understanding Christian Counselors, schedule a consultation today.
You can't be perfect, but you can be at peace. Counseling can help.
Life is hard and God knows that. Rather than judging or shaming you, our Christian Counselors want to encourage and empower you to draw strength from your faith and find the peace and clarity that will quiet your heart.
Our clients tell us that having a safe place to work through their thought patterns has helped them realize that they were believing lies about themselves they didn't even realize. Most of them report their anxiety decreased as a result of learning new therapeutic tools to manage their thoughts and emotions. We love most when our clients tell us they feel more connected to God and more confident in his plan after working with a Christian Counselor that helps them focus on the truth.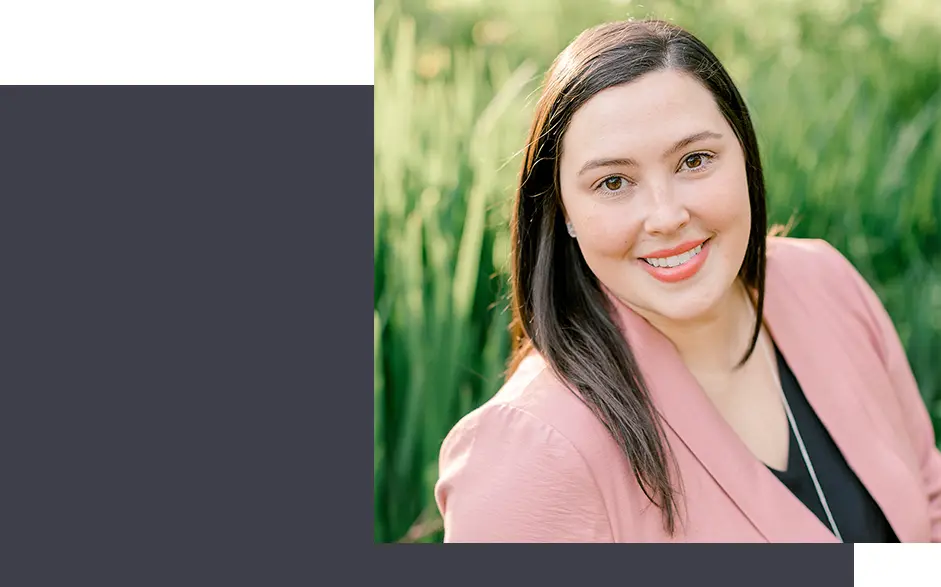 Online Christian Counselor – Rachael Myers, LCSW
Too few Christians have mastered the art of being comfortable in someone else's uncomfortability.
Resolve Counseling seeks to provide a place where Christians can share the uncomfortable realities they are facing and not immediately be greeted with solutions or judgment.
Rachael Myers, LCSW is a believer who has faced her own challenges; experiencing firsthand that churches don't always have the perspective or resources to support people in the unique ways they need. Rachael's desire is to fill that gap and provide a place where Christians who have been hurt by churches, or other believers, can work out their faith in a safe place.
Rachael enjoys helping clients work through stress, anxiety, grief and loss, divorce, depressions, stepfamily challenges, ADHD, job transitions and so much more. If you're facing a complicated situation and looking for someone who will simply "get it" while giving you support that aligns with your values, schedule a consultation to start working with Rachael today.
Finding Christian Counseling that is right for you.
Christian Counseling means different things to different Christians. It's important to know what you are looking for.
At Resolve Counseling, the therapist and client work together to determine where the client is in their faith journey, and how they would like to incorporate the Christian Perspective into their counseling experience.
We understand that you're facing challenges and want to work with a counselor that shares your Christian Beliefs.
You also probably want a safe non-judgmental place to talk about your struggles and receive encouragement that aligns with your biblical worldview.
Christian Counseling at Resolve Counseling is intended to align closely with your beliefs so that the tools you learn are easily implemented into your everyday life.
At Resolve Counseling, you will have the opportunity to process the problems you're facing with help from a professional therapist that also shares your Christian Values.
As for the actual structure and focus on therapy, it will be specific to each client and their specific situation. The therapist and client will determine what issues the client wants to focus on, and then create a unique treatment plan.
We often tell people that they will know counseling is working when they find themselves worrying less, sleeping better, feeling lighter, not taking on more than they can handle, setting boundaries with people who are asking too much, not worrying about what other people think, feeling confident in their decision making, expressing their opinions without fear of judgment, having time to think about things before making decisions and feeling like they communicate better with their spouse, friends, family, employers and others.
If you want to use your faith to help you navigate your challenging situation, Christian Counseling is for you.
What is Christian Counseling?
Christian Counseling means different things to different people. At Resolve Counseling, Christian Counseling is a service our Christian Counselors provide to help clients that want to use their faith to navigate life's messy situations. We believe Christian Counseling should be initiated, and led by the client. Our therapist will follow your lead and help determine when you'd like to bring in the Christian perspective.
How does Christian Counseling work?
Clients that wish to find a Christian Counselor can schedule a consultation and express the desire during the consultation. The client will be matched with a Christian Counselor, and during the first session they will talk with their Counselor about how they'd like to incorporate their faith into counseling.
When is Christian Counseling needed?
People seek Christian Counseling for many different reasons, here are a few of the reasons our clients sought out Christian Counseling at Resolve Counseling:
They find themselves in situations that are enmeshed, and can't find support in their religious institution to remove themselves from the situation without being judged.
They are struggling with depression, and feel guilty about taking medication or getting professional help because they think it means they are not trusting God.
They feel embarrassed that they are struggling with anxiety because they know they should be trusting in God.
They find themselves having family issues, and the standard advice they are getting from their church or pastors doesn't seem to be helping, but in fact, is making things worse.
They've been divorced and are experiencing hurt and rejection from their faith community.
They have a blended family and recognize that the biblical advice given to nuclear families is quickly dispensed to them, but doesn't address unique problems related to divorce, remarriage, and stepkids.
How much does Christian Counseling cost?
The cost of counseling can vary from practice to practice. At Resolve Counseling Group, we price our therapy based on the licensure of our clinicians. You can view our service prices on our FAQ page.
How long does the Christian Counseling process take?
The length of time that counseling lasts is determined by the therapist and client. Each client will work with their therapist to set their therapy goals and treatment details.
How do I know if Christian Counseling is right for me?
If you're a Christian that needs counseling, but wants to be careful that the guidance and support you receive is in line with your Chrisitan values, Christian Counseling is right for you. We add a disclaimer that you need to specifically ask each Christian Counselor what the definition of Christian Counseling is. Many people have many different approaches. The team at Resolve Counseling sees Christian Counseling as an opportunity for the client to use their faith as a source of strength and support while they navigate whatever life events or stress they are going through.
How often should I have a session for Christian Counseling?
Each client's experience will be different. We tell our clients to expect to come weekly in the beginning for sessions, and then determine the right frequency with their therapist.
Get Started With Christian Counseling
To work with authentic christian counselors near you, schedule a consultation today.
We invite you to schedule a consultation with our Intake Specialist, Jordan Beall, who will match you with a Christian Counselor she believes will be the best fit for you. She can answer any questions and schedule you for your first appointment.